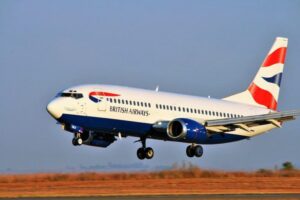 Many of our patients travel from other parts of the country for their cosmetic procedures. Our staff is dedicated to assisting our out–of–town patients every step of the way to ensure their experience exceeds expectations!
While there are a few extra factors involved in traveling for cosmetic surgery, we hope to provide you with all the information you need to easily plan and prepare for your cosmetic procedure.
Consultation Options
If you are interested in learning more about cosmetic surgery or would like to schedule an in person or virtual consultation with Dr. Beeson, please contact our office at 317-846-0846 or by fps@18.246.3.156
Customarily we see patients for consultation and then see them for their preoperative visit approximately two weeks prior to their procedure. However, for patients who must travel longer distances, there is the option of scheduling a virtual consultation with Dr. Beeson.
Virtual Consultation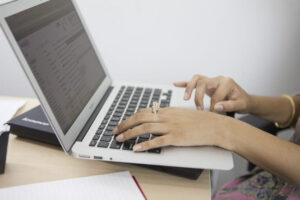 While it is important to have a formal consultation face–to–face and a physical exam evaluation prior to establishing a formal doctor-patient relationship and prior to actually having your cosmetic procedure, this may be impractical for patients who must travel long distances. In those cases, patients have the option to have an initial virtual consultation with Dr. Beeson. If they elect to have cosmetic surgery, they obtain the necessary preoperative lab studies and medical clearance from their local medical doctor approximately two weeks prior to their scheduled procedure. We then see them the day prior to their surgery for a formal consultation and their pre-surgical visit. Surgery is then performed the following day.
If you would like to schedule a virtual consultation, please call our office at 317–846–0846 or CLICK HERE!
We will be happy to arrange a time that is convenient for your schedule to talk with Dr. Beeson regarding your concerns and desires. In order to make the virtual consultation as informative as possible, we request that you complete a patient information form as well as provide photographs of your areas of concern for Dr. Beeson to review prior to your consultation.
We recommend that you review the "Consultation" section of our website (place icon to take to consult section) for more information regarding how to analyze your face and information regarding submitting your photographs for review. We also recommend that you review our on–line Consultation book, paying particular attention to the procedures you are interested in. (icon linking to online consultation book)
Virtual consultations are usually scheduled in the evening and take approximately one hour. Following the consultation, Dr. Beeson will send you a written summary of your discussions along with his recommendations and specific costs for the procedures you discussed. One of our nurses will then contact you to answer any questions you might have and discuss scheduling options, if you so desire.
Cosmetic surgery can be one of the most positive life-changing events over which you have control. But, it needs to be done at a time that fits well into your schedule, works for your budget, and when you feel comfortable with the doctor performing your surgery. We want to be sure that achieving your aesthetic goals works into your budget. If you choose, our staff is happy to work with you confidentially regarding various financing options available.
Preparing for Your Surgery and Recovery
Advanced planning is important prior to traveling for surgery. After scheduling, our nursing staff will contact you to review the "do's" and "don'ts" prior surgery, provide you with the necessary laboratory requisitions and medication prescriptions, and assist you with your travel and accommodation requests.
Travel and Accommodations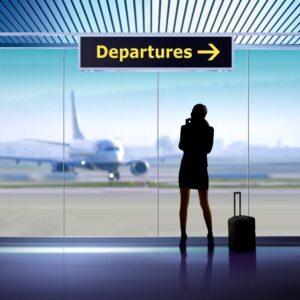 Indianapolis International Airport (IND)
Indianapolis International Airport (IND) is consistently ranked as one of the top airports in United States for customer service. Our office is conveniently located 15 minutes from the Indianapolis International Airport Terminal. We can arrange for limousine pickup upon your arrival, if so desired, or taxi, Uber, and Lyft services are immediately available. Rental car facilities are also located within the main terminal.
Car Rental at Indianapolis Airport

Alamo (Phone: 800 327 9633)
Avis (Phone: 800 230 4898)
Budget (Phone: 800 527 0700)
Dollar Car Rental (Phone: 800 800 3665)
Enterprise (Phone: 800 736 8222)
Hertz (Phone: 800 654 3131)
National (Phone: 800 227 7368)
Thrifty Car Rental (Phone: 800 847 4389)
Hotel Facilities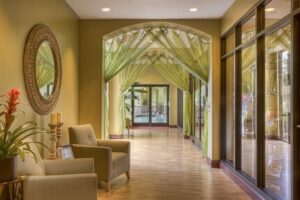 Over half of our patients come from outside of the Indianapolis. Our concierge staff are happy to assist you with logistical arrangements: from assisting you with hotel reservations to arranging for nursing services to assist you during your recovery care.
Many of our patients prefer to spend one or more days of their convalescence in one of the numerous hotels conveniently located near the surgical facilities we use. Most of our patients prefer one of the moderately priced "all suite" hotels. This allows the patient to have maximum peace and quiet, while at the same time providing more space and comfort for their caregivers. They also have small kitchen areas with refrigerators and large ice machines are conveniently located on the floors.
Some patients and their family desire a "full service" hotel and prefer one located close to shopping and entertainment areas for family members. Our recommendations are The Sheraton Hotel at Keystone at the Crossing (in Indianapolis) and Hotel Carmichael (in Carmel). The Keystone Crossing Fashion Mall is an upscale shopping mall which includes a Nordstrom's, Sach's Fifth Avenue as well as multiple eateries including The Cheesecake Factory, P.F. Chang's, and Sullivan Steakhouse.
Hotel Carmichael is located near the Carmel Arts & Design District, where you'll find various art galleries (Evan Lurie Fine Art Gallery), showrooms (Indiana Design Center), specialty shops (Carmel Old Town Antique Mall) and restaurants (Anthony's Chophouse).
For those desiring to stay in downtown Indianapolis, the JW Marriott and the Conrad Hotel are our preferences.
Hotel Listing Near St. Vincent
AmeriSuites
9104 Keystone Crossing
Indianapolis, IN
317-843-0064
Courtyard by Marriott
10290 North Meridian Street
Carmel, IN 46032
317-571-1110
Doubletree Guest Suites
11355 North Meridian Street
Carmel, IN 46032
317-844-7994
Drury Plaza Hotel
9625 North Meridian
Indianapolis, IN
866-238-4218
Fairfield Inn & Suites by Marriott
1335 W Main St,
Carmel, IN 46032
(317) 574-2500
Hampton Inn
11705 North Meridian
Carmel, IN 46032
317-843-1100
Hilton Garden Inn
13090 Pennsylvania Street
Carmel, IN 46032
317-581-9400
Home2 Suites by Hilton
12845 Old Meridian St,
Carmel, IN 46032
(317) 795-1030
Homewood Suites by Hilton
11355 N Meridian St,
Carmel, IN 46032
(317) 844-7994
Hotel Carmichael
1 Carmichael Square,
Carmel, IN 46032
317-688-1700
Ironworks Hotel Indy
2721 East 86th St.
Indianapolis, IN
463-221-2200
Residence Inn
11895 N. Meridian Street
Carmel, IN 46032
317-846-2000
Sheraton North
8787 Keystone Crossing
Carmel, IN 46032
317-846-2700
Signature Inn
10201 North Meridian Street
Carmel, IN 46032
317-816-1616
Springhill Suites
11709 North Meridian
Carmel, IN
317-846-1800
Staybridge Suites
10675 N Pennsylvania St
Indianapolis, IN
317-582-1500
Wyndham Garden Hotel
251 Pennsylvania Parkway
Indianapolis, IN
317-574-4600
Luxury Hotels in Downtown Indianapolis
The Alexander
333 South Delaware St
Indianapolis, IN
855-200-3002
Canterbury
123 South Illinois St
Indianapolis, IN 46225
800-538-8186
Conrad
50 W. Washington St
Indianapolis, IN
317-713-5000
Hyatt Regency
1 South Capitol Avenue
Indianapolis, IN
866-471-8347
J W Marriott
10 S West Street,
Indianapolis, IN 46204
317-860-5800
Westin
50 South Capitol Avenue
Indianapolis, IN
317-262-8100
Additional Services
Pharmacies
CVS (24 Hours Pharmacy Service)
Located 116th St and Rangeline Road in Carmel
1421 S Rangeline Rd
Carmel, IN
317-844-2775
Walgreen's (Open 24 Hours)
Located 116th St and Rangeline Road in Carmel
1424 S Rangeline Rd
Carmel, IN
317-571-1176
Meijer
1424 West Carmel Dr
Carmel, IN
317-573-8310
Food Delivery Services
Things to Do, See and Eat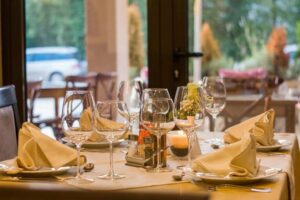 Immediately after procedure you will need to relax interbody begins to heal. During this time, you can enjoy the many conveniences of Indianapolis. From delicious and healthy take-out options to things for your traveling companion to explore while your resting, there are variety of things to do, see, and eat in the Indianapolis–Carmel area.
Where to Dine
You may find to you do not want to venture far from your hotel room for several days and prefer using local take-out and delivery options: Grubhub, DoorDash and Uber Eats are delivery companies that can bring your favorite dishes from some of Indianapolis' best restaurants right to your hotel.
P. F. Chang's (Chinese)
Qdoba (Mexican)
Toppers Pizza (Pizza)
Fuji Sushi Hibachi Express (Sushi)
Red Lobster (Seafood)
After several days she may feel up to exploring some of the fine dining the area has to offer for you had home. Here some of our patients' favorite local eateries:
Seasons 52
Oceans Prime
Flemings Steakhouse
Sullivan's Steakhouse
Ruth's Chris
P.F. Chang's
The Cheesecake Factory
Saint Elmo Steakhouse
Things to Do and See
While most of your time will be spent relaxing following your procedure, when your ready to "get out and about" you may enjoy a number of the recreational and sightseeing opportunities available in the area:
The Children's Museum of Indianapolis
Hilbert Theater – Indianapolis Symphony Orchestra
Indianapolis Repertory Theatre
Lucas Oil Stadium – Home of the Indianapolis Colts
NCAA Museum of Champions
Newfields (Indianapolis Museum of Art)